Back to School Night
(no home work - but only 50 seats available)

The Orange County Chapter of the Knights Of The Vine has the opportunity to show our support for
the up and coming chef's in the nation. We have been invited to a dinner prepared exclusively for
KOV by the graduating students of The Art Institute culinary arts program.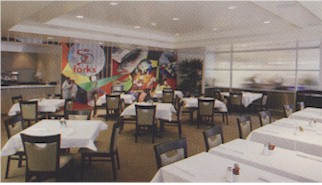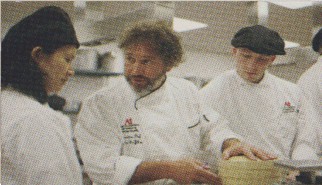 The Art Institute of California-Ornage County's student-run restaurant, 50 Forks, is a California bistro
that draws inspiration from culinary regions across America. Big flavor and aromatic parings with
premium ingredients and contemporary presentation embody the cuisine of 50 Forks.


When:
Saturday, April 17, 2004 at 6:00 p.m.
Where:
3601 West Sunflower Avenue, Santa Ana, CA
(5 freeway to Harbor Blvd, go East to Sunflower, turn right - left side of street)
What:
APPETIZER

Fried Shrimp Wonton, w/ Cilantro & Water Chestnut

Asian Salad with Thai Dressing
SALAD

Grilled Rosemary Chicken Breast, field mesclun, roasted peppers w/balsamic

vinaigrette & shallots reduction
ENTRÉE

Seared Fillet of Salmon in a peanut crust

(alternative entrée available with prior request)

Braised Bok Choy and Star Anise, Chile coulis
DESERT

Poached Pear w/Tahitian cream brule Kiwi sauce sugar dome
Cost:
$50 for member and guest - $55 for non-members

Inclusive of accompanying wines
RSVP:


Kris McCrystal
25245 Regio, Mission Viego, 92692
Make checks payable to: Knights Of The Vine (KOV)
Include request for Entrée alliterative if non-salmon eater.



Note of interest: Our own Chef Murat Day is a distinguished instructor at the Institute